Fire that 'totally destroyed' Budleigh scout hut believed to be arson; Ottery firefighters attended scene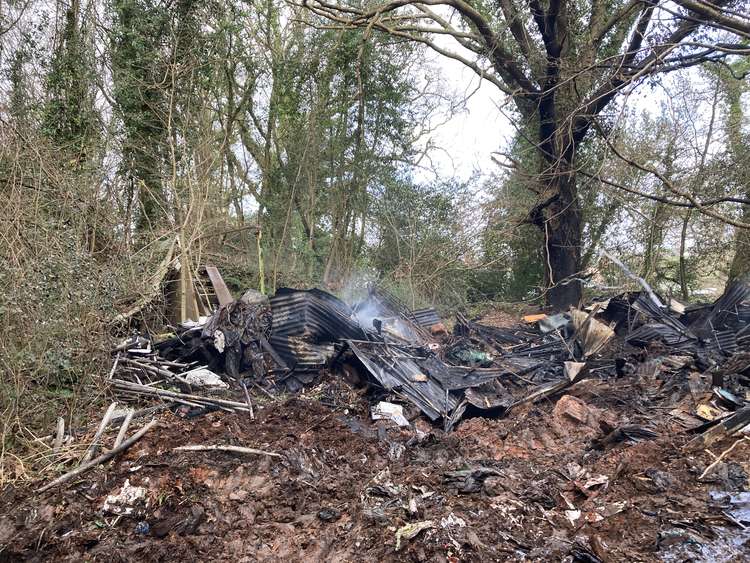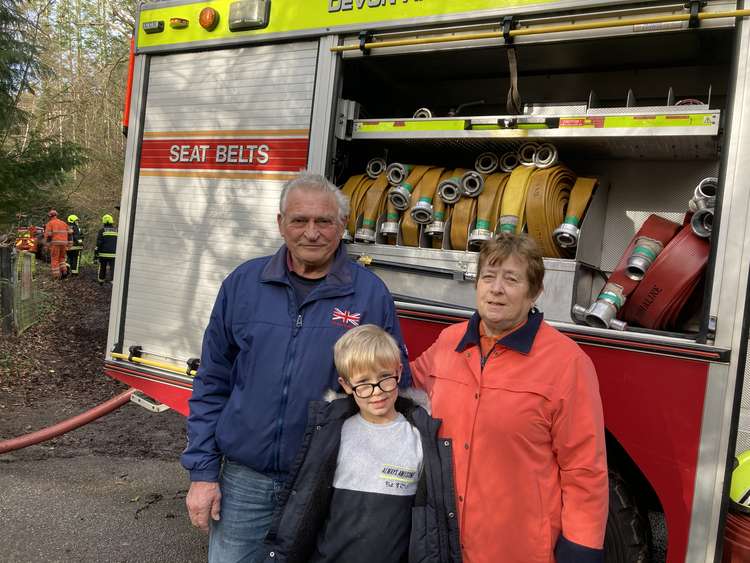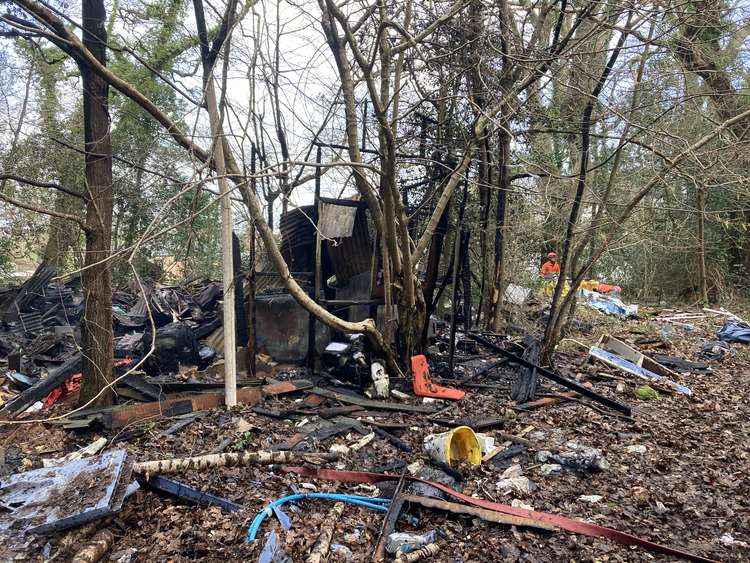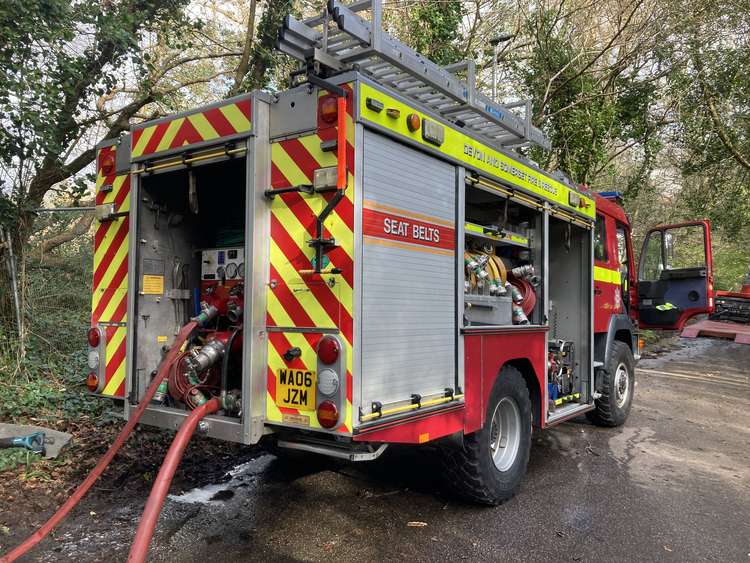 A fire that 'totally destroyed' a scout hut in Budleigh Salterton is believed to have been arson.
Thousands of pounds' worth of equipment has reportedly been lost in the blaze, but no-one was injured.
Ottery St Mary firefighters were called to the scene with three other crews at around 10.18pm last night (Sunday 20 February), and worked 'throughout the night' trying to extinguish it.
The fire was still smoking at 10am this morning, and an Exmouth crew was at the scene damping it down.
Firefighter Ian Williams told Nub News: "As you can see the incident has been scaled down to one pump, along with some support from our colleagues from Urban Search and Rescue at Clyst St George.
"As the building's collapsed, the fire is trapped underneath and it's extremely hot still. It's smoking, but what we're doing now is clearing a path to get in, pick it up and turn it over until it's completely out.
"There are two or three properties without electric at the moment, because the electric has been cut off at the fuse box at the top. We're trying to get it out as quickly as possible, so electric can come and restore electricity to those properties.
"I reckon we're probably here for [one or two] more hours possibly until it's completely out.
"Yesterday when it was going, there were quite a few [gas] cylinders involved, and one did explode I think. I think it's camping gas - we've got a row of them that we've taken out and there's one more unaccounted for at the moment but that's the one that's blown apart ... there might be bits of metal. Unfortunately I wasn't here so I didn't see it.
"Some of us have been back from late, because we got called at 10pm. Some of the crew attended initially and they're back again now for relief."
While the fire service said that the cause of the fire is believed to have been deliberate, Ian thinks that the possibility of finding evidence is 'very slim'.
He added: "If you can see by the amount of damage that's in there, the chances of finding anything are very slim I think.
"I've got no idea whether it was deliberate or not. I don't think we'll ever find out."
Local resident Alan Bullock was looking after his grandchildren when he saw the fire from his thatched property nearby yesterday evening - and was concerned the fire would spread.
He said: "We were looking out the bedroom window, it was a thatched house we were in with two boys asleep ... we were worrying which way the wind was going.
"There were sparks going up, and I thought if the sparks come this way they could catch the thatch, but the wind was blowing down the valley."
Also at the scene was the group scout leader of the 1st Budleigh Salterton Scout Group, Alan Lowe. He told Nub News that 'thousands of pounds' of scouting equipment had been lost, including tents, ropes, tools, marquees, furniture, semaphore flags (for signalling), and a piano.
He had been a cub at the same scout group when he was younger, and said that the hut had been built in the late 1950s.
He said: "Just after the war, all the schools had new temporary classrooms built, and this was one of those.
"There was a hut here before then, and the group has been running since 1912 [as far as] we've got records of. It wasn't running here, it was running in Budleigh.
"A lot of history and memories."
Ann Lowe, who was with Alan at the scene, added: "In six weeks' time, Easter, we will have done 50 years' scouting in this town, Alan and I.
"Half of the firemen [here] were scouts at this group. It's a very sad day. I gave a lot of my life to this."
The incident has now been marked as 'closed'.
—————
Got a Sidmouth story you want to share with us? Email [email protected]
For daily updates on what's happening in Sidmouth, follow us on Facebook and Twitter. You can also sign up to our free weekly newsletter featuring exclusive articles for subscribers - just type your email into the box below.