Proposed boundary shake-up would see Sidmouth as part of Honiton constituency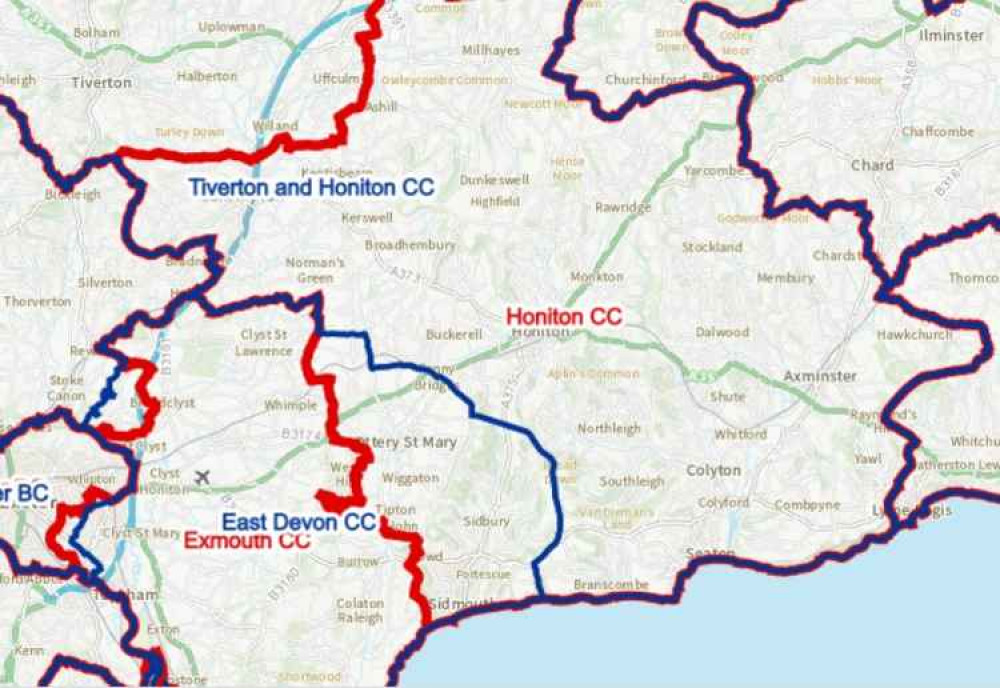 Map showing the existing boundaries in blue, and the new ones in red
A shake-up of the parliamentary constituency boundaries could see Sidmouth becoming part of a new Honiton constituency, separate from Exmouth, Budleigh Salterton and Topsham.
A public consultation on the changes has opened today and runs until August 2.
Constituency boundaries are changed regularly to make sure that each MP gets a similar number of people eligible to vote in their area.
As of March 2020, by law every constituency proposed has to have between 69,724 and 77,062 people who can vote.
The current East Devon constituency, represented by Simon Jupp MP, covers Topsham, Exmouth, Sidmouth, Ottery St Mary, and Clyst St Mary.
The new proposed Honiton constituency would have Sidmouth and Ottery on its western border, with Axminster on its eastern edge.
Responding to the announcement, Simon Jupp said: "The constituency I'm proud to represent contains the largest population in Devon and has to change under the rules of the boundary review.
"I will put forward my views as part of the consultation process as the East Devon constituency will change to reflect a growing population across the area.
"I voted to ensure Parliament can't block the final recommendations which are designed to make Parliamentary representation fairer across the United Kingdom."
Tiverton to be part of a separate constituency
The existing Tiverton and Honiton constituency, represented by Neil Parish MP, would be split up, with Tiverton combined with the current Bridgewater and West Somerset constituency.
Mr Parish said: ""I was not expecting Tiverton and Honiton to be sliced apart. It was certainly a surprise, and this clearly affects my position as the constituency's MP. My current electorate will be split and so I will no longer be able to represent each of my current constituents.
"I will have to await the final proposals in full, to ensure I have all the details, before I can make any decisions on whom I will seek to represent within the new boundaries."
Under the proposals a new constituency would be created for Exmouth, which would also cover part of Exeter.
A map of the existing boundaries and the proposed new ones can be seen here.
The Boundary Commission's current review will conclude with a formal report and recommendations in June 2023.
Scotland and Wales will see the number of MPs cut, while England gains 10 seats overall.