Sidmouth 'seaweed caviar' wins local award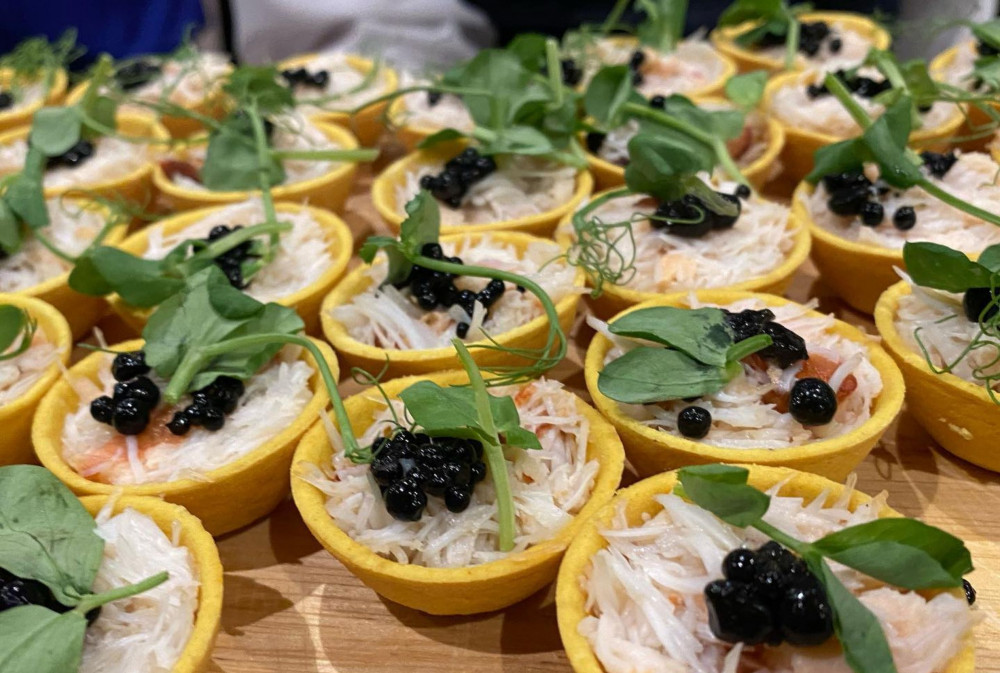 Seaweed caviar pearls on a crab canapé (Ebb Tides)
Local Sidmouth products including 'seaweed caviar' won several awards at the Food Drink Devon Awards on Monday (3 October).
Sidmouth Gin scooped two silver awards for its elderflower and lime gin and crab apple liqueur 'Red Dragon', and Ebb Tides two golds for its seaweed salt blend and seaweed caviar pearls.
The 11th award ceremony was hosted by Tony Hawks and saw over 330 attend at Crowne Plaza Plymouth.
Chair of Food Drink Devon Greg Parsons said: "Covering food production, preparation, retailing, cooking and service, the Food Drink Devon Awards honour businesses demonstrating a consistent commitment to quality, sustainability, provenance, excellent customer service and support for their local communities and other local businesses. Myself and the board of directors wish to congratulate all of this year's deserved winners and shortlisted entrants."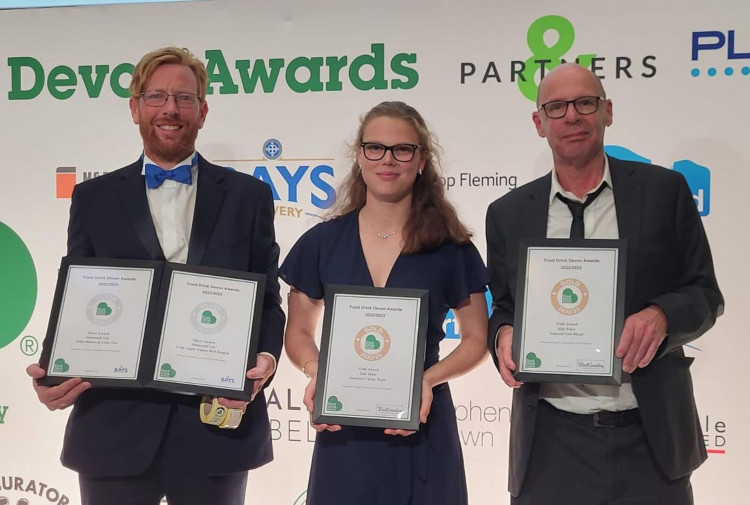 L to R: John Hammond, Ellie Hattrell, Tony Coulson (Ebb Tides)
Ebb Tides is a company founded by Tony Coulson in 2016, which is now 80 per cent owned by the founder and director of Sidmouth Gin John Hammond.
The director of Ebb Tides, Ellie Hattrell, harvests the seaweed used in the company's products by hand from the local area.
Speaking about how the seaweed caviar pearls are made, John Hammond said: "We harvest the seaweed and mix it up with other ingredients and boil it to a stock.
"The seaweed stock is then dropped hot into a cold oil which causes a skin to form on the outside forming the pearls.
"These have a very savoury taste to them, 'umami'. We have had them on smashed avocado on crackers, crab canapés and in sushi so far."
Sidmouth Gin and Ebb Tides products are available from The Dairy Shop on Church Street in Sidmouth.
Click here to visit the Sidmouth Gin website and here for the Ebb Tides website.