Sidmouth shops back campaign for residents to shop local for Christmas gifts, food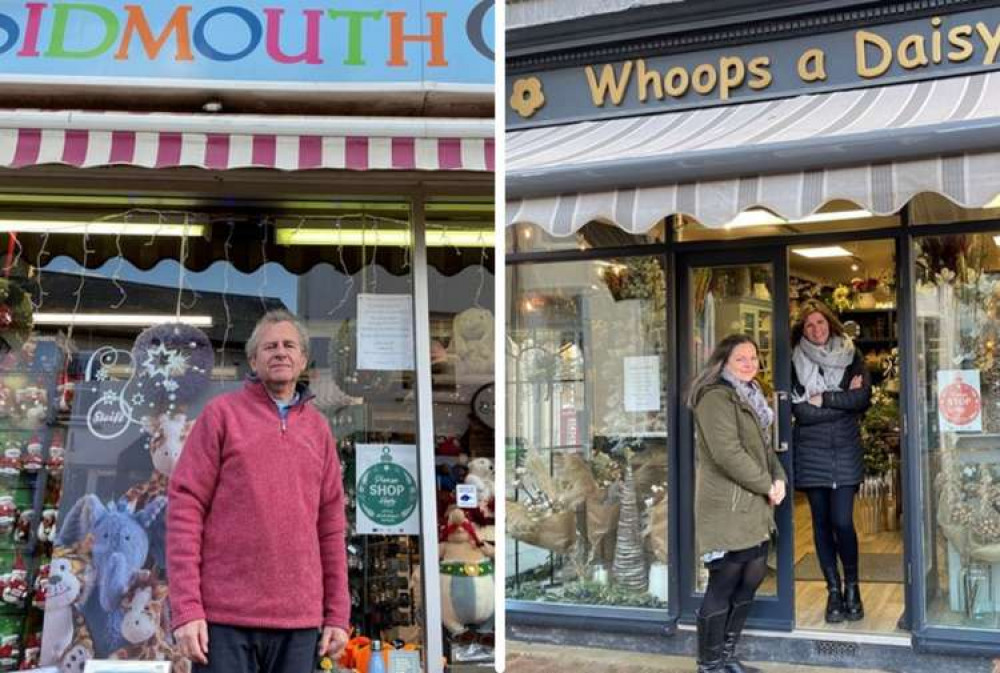 L: John Wycherley from Sidmouth Gifts. R: Karen and Lucy from Whoops A Daisy Florist. Credit: EDDC
Two Sidmouth shops have voiced their support for a new local shopping campaign launched by East Devon District Council.
The campaign is designed to encourage local residents to shop locally for all their Christmas gifts and food this year.
Shops taking part will feature a red 'Please Stop Here' or green 'Please Shop Here' sign in their windows.
Cllr Paul Hayward, East Devon District Council's Deputy Leader and Portfolio Holder for Economy and Assets, said: "Christmas is a key season for our high streets and there are many benefits for shopping locally.
"It also more environmentally friendly to shop locally as there is a smaller carbon footprint. Small and medium sized businesses are also vital in keeping character and individuality to our high streets."
John Wycherley from Sidmouth Gifts said: "You can buy all kinds of gifts for Christmas if you shop locally – you really don't need to travel far or shop online because there's so much choice right here!"
Karen and Lucy from Whoops A Daisy Florist in Sidmouth said: "It's so important for people to shop in the town and support local businesses to help our High Streets thrive. There's lots of choice so why go anywhere else?"
If your East Devon business would like a window sign, you can email [email protected]
—————
For daily updates on what's happening in Sidmouth, follow us on Facebook and Twitter. You can also sign up to our free weekly newsletter featuring exclusive articles for subscribers - just type your email into the box below.