UP CLOSE: Annies of Sidmouth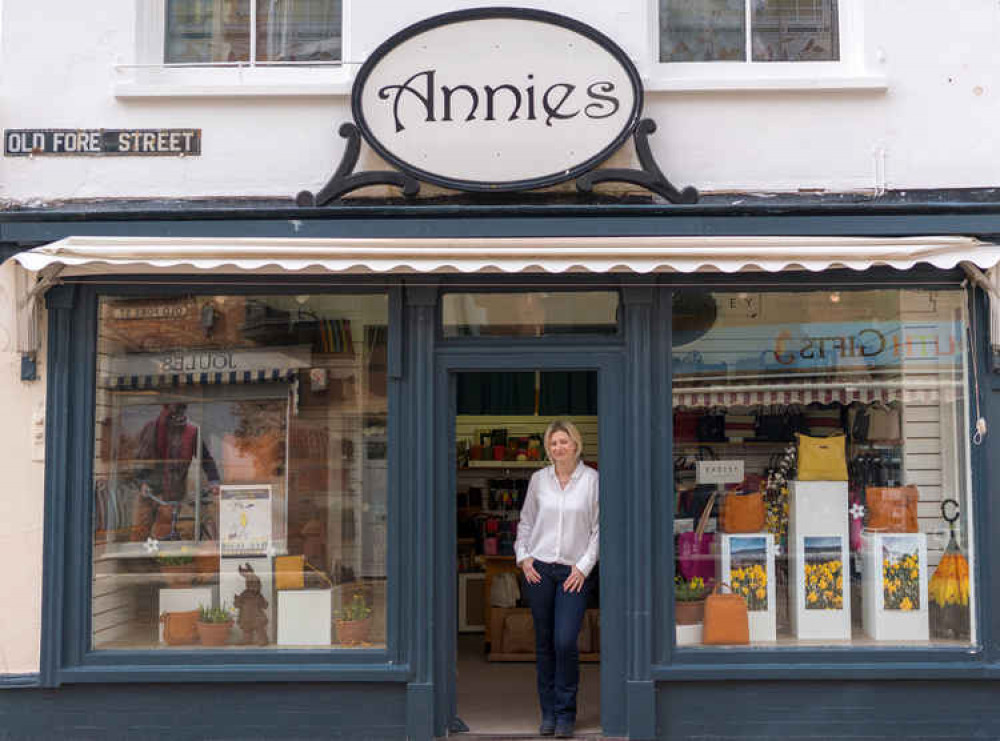 Each week Sidmouth Nub News will be featuring a different business or organisation in the town to help support our wonderful community.
This week, we speak to Harriet Morris, owner of Annies of Sidmouth in Old Fore Street.
Tell us about your business:
The shop has been here since 1987 so it is a bit of an institution in Sidmouth.
Annies is a leather good shop we sell handbags, purses, wallets and belts as well as interesting gifts - like seagull umbrellas, scarves, gloves and travel jewellery boxes.
The shop is really well know for the umbrellas to keep those pesky seagulls at bay.
I have only owned it for two years. I used to work in a shop when I was a student and absolutely loved it.
It was something I always wanted to do - have my own little boutique - so when the opportunity arose I took it - and I'm a little bit obsessed with handbags.
Tell us about yourself:
I am 49 years old and have two teenage children.
I grew up in Kent and lived abroad for 20 years in places like Hong Kong, India, Ukraine, Netherlands, Republic of Ireland and Cambodia.
I am also a very keen photographer and the chair of Sidmouth Photography Club so living in East Devon is amazing as it is a very photogenic place.
I have been doing photography for 25 years and one of the most memorable moments was one of the first times I went out taking pictures at a temple in Cambodia - where the land around it had land mines! It was just scary being there.
How has Annies been affected by Covid?
We had to close so the shop. And, the shop didn't have an online presence before I took over so I spent the first lockdown building the website. Which, I am really proud of as it is not an easy thing to do.
What achievements are you most proud of?
Well, it is a dream to own a little shop by the sea. I feel so lucky - my family are very proud of me. I love interacting with the customers and chatting, it is proper retail therapy.
What plans do you have for the future?
At the moment we have branded good - Radley, Gianni Conti and Yoshhi - and I would like to design Annies' own brand of handbags.
I would like to design the 'perfect handbag'. People come in and describe what they want in the perfect handbag and that is what I want to do.
I want it to be a small to medium size, light weight leather, with sectioned compartments so you can keep different things in different parts.
I also want the lining to be a light colour so it is not a big black hole and for it to have zip pockets on the outside so you can reach your phone and keys easily.
Why Sidmouth?
I wanted to come home and my mum lives in Newton Poppleford so wanted to be close to family. And, I just love being by the sea.
Sidmouth had a very welcoming community, it is one of the best places to raise a family in the world, and it is definitely one of the nicest places I have ever lived.
Throughout lockdown Annies is oppressing a 'post a present' service, with free delivery in Sidmouth, as well as a click and collect service. Visit the website HERE.
If you would like your business, organisation, club or charity to feature in the next UP CLOSE feature, email [email protected]