River crossings and mud for Sidmouth Running Club in Honiton Hippo and Calf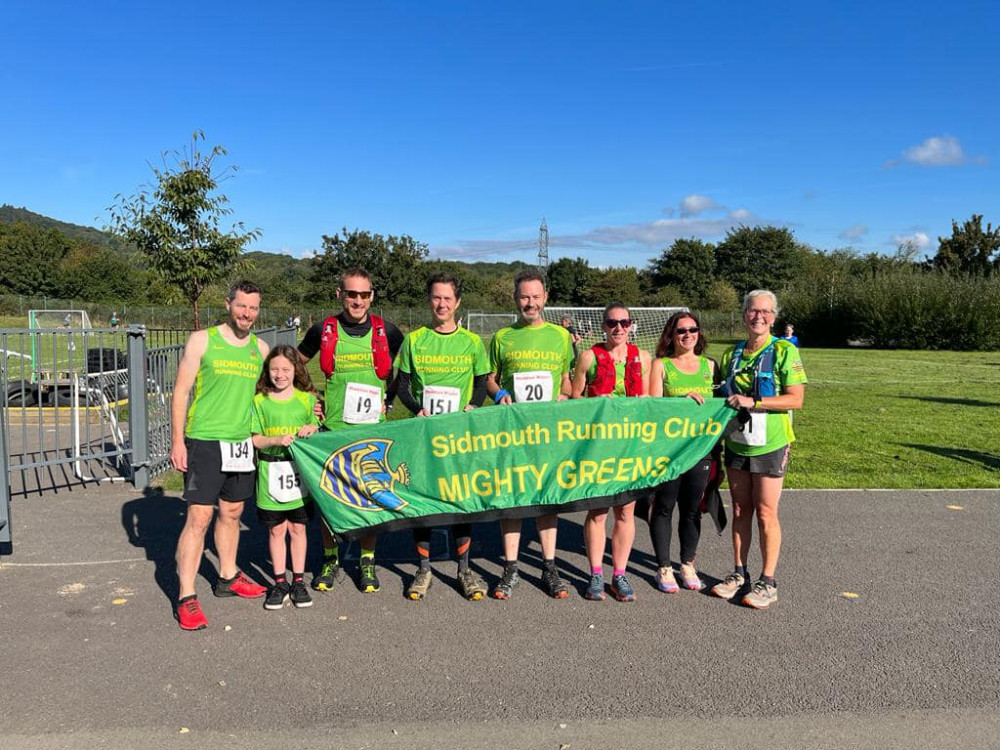 The Mighty Green photo before the Honiton Hippo & Calf (Sidmouth Running Club)
Some race events have a reputation that goes ahead of them, the Grizzly for example, where you know vaguely what challenges lie ahead but you still want to enter and experience it first hand.
This can be said of Honiton Running Club's 'Honiton Hippo and Calf' - you hear about the water crossings and the mud and think that sounds challenging but fun I'll enter that, especially as it is part of Sidmouth Running Club's Autumn Challenge series. But did anyone mention the hills?!?
Representing SRC Juniors, Ben Barnard wore the Mighty Green and ran in the Hippo Calf, a two mile route around Combe Woods which included a river crossing. Ben finished in 17:49 and thoroughly enjoyed the run saying the river crossing was the best bit along with the medal.
There were eight Mighty Greens in a field of 139 running in the Hippo and all said how tough the 7.5 mile route was.
Heading out through Combe Woods and St Cyres the second mile was memorable for being complete climb; as MG Donna Womersley-Westlake said, it was never ending! But then the fun began as you entered the grounds of The Landrover Experience where there were uneven ruts, loose stones, ups, downs and three water crossings varying in muddiness to navigate.
It was great to hear the laughter and shrieks echoing around as you headed back towards Honiton admiring the beautiful countryside. It was at this point you remember the pre-run briefing and realise what was coming up - two river crossings, one which involved a rope and a ladder! But in fact, these were great fun to splash through and so close to the finish line it didn't matter that you were wet from the waist down.
Martin Barnard, like his son Ben, was the first Mighty Green over the finish line in 1:03:42 with Mark Andow finishing not far behind in 1:07:44. All finishers received a bottle of Norcotts cider or apple juice and went home looking forward to running it next year!
Results: Martin Barnard 1:03:42, Mark Andow 1:07:44, Mark Norton 1:12:12, Stuart Moul 1:18:53, Hannah Maslen 1:31:53, Alexa Baker 1:37:16, Donna and Grahame Womersley-Westlake 1:50:15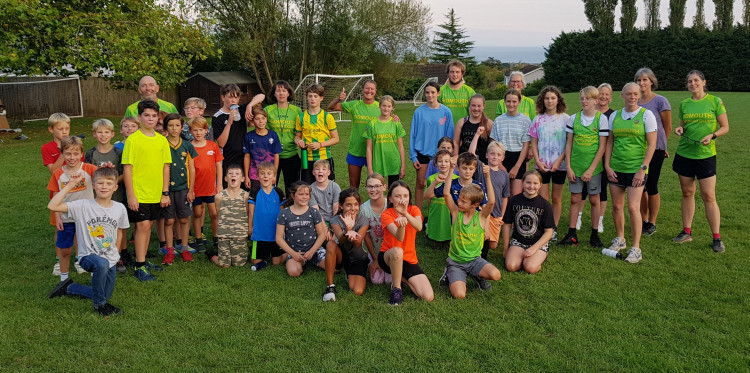 A great start to the juniors' autumn term (Sidmouth Running Club)
Sidmouth Running Club Juniors were able to enjoy a sunny first session of the Autumn term on St John's School sports field last Wednesday. It was lovely to welcome back familiar faces and see some new ones too, including adult helpers. The 8-11yr group focused on paced running activities whilst the 11+ group which has almost tripled in size, had fun getting to know each other and their abilities with some running games.
It is not too late to join us, please contact Junior Coach Kerry Boyle for more details. www.sidmouthrunningclub.co.uk