Stories of Sanctuary Spirit – Winter Trail
---
The Donkey Sanctuary Slade House Farm Sidmouth EX10 0NU
2nd Nov 2022 - 17th Mar 2023
UNTIL Friday 17th March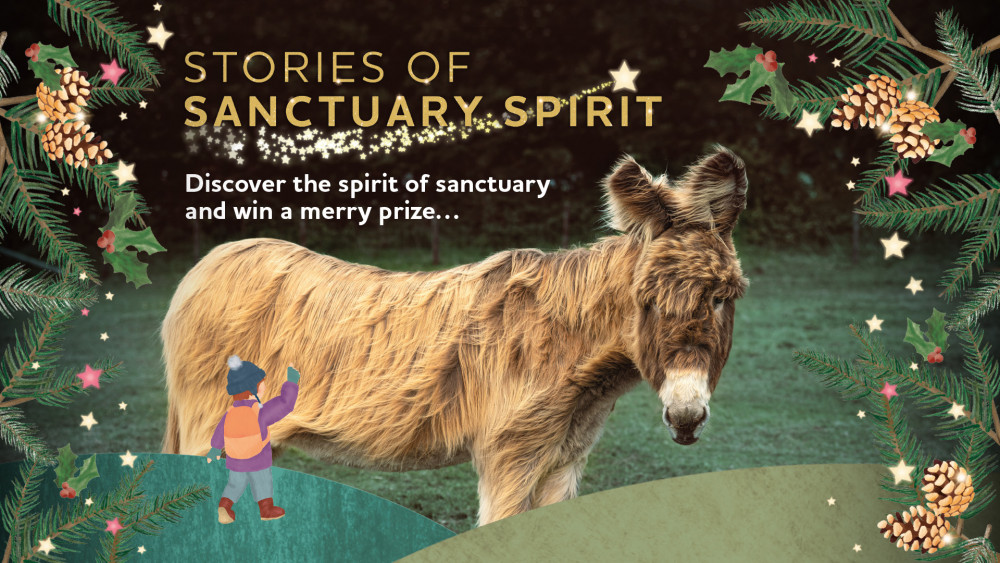 Discover the spirit of the sanctuary this winter with our Stories of Sanctuary Spirit winter trail. At The Donkey Sanctuary, we see the Spirit of the Sanctuary as love in action, sharing joy and peace and being together. Here, we put donkeys first, using the spirit of the sanctuary to remember who we are.
Follow our festive trail around the sanctuary and uncover each spirit word and its matching donkey in our merry poems.
This joyful activity combines family fun, exercise and brainpower and is just £5 per trail, including a prize when you complete the trail. Head to the Gift Shop to pick up a trail sheet and you're ready to begin searching for the stories of sanctuary spirit.
Plus with a new play area, daily talks, scenic walks, engaging exhibits, award-winning gardens and, of course, hundreds of adorable donkeys to meet, there's so much to explore with your own herd, whatever the weather. Friendly dogs on leads are welcome too!
Take sanctuary in our Taste of the West award-winning restaurant, The Kitchen, and enjoy fresh, local, seasonal produce while soaking in the unparalleled coast and country views. Breakfasts, lunches and tempting afternoon treats are dished up daily, with every penny of profit helping donkeys and mules around the world.
Before heading home, browse our Gift Shop at leisure in the knowledge that every purchase goes towards helping donkeys in need. Packed with unique donkey-design items and souvenirs, you will find something for everyone.
Make the day your own, but above all else, fall in love with our herds of donkeys.
From humble beginnings as a UK rescue mission 50 years ago, The Donkey Sanctuary has grown into one of the world's largest equine welfare charities.
General admission and parking at the sanctuary are FREE (donations welcome). Dogs on leads are welcome.
Further information
01395 578222 | [email protected]
All proceeds help fund the work of The Donkey Sanctuary Worldwide.
Add your Sidmouth event for FREE here!
Nub It