UP CLOSE: Co-op Member Pioneer Sarah Reed
---
By Philippa Davies
Posted: Friday, 09th July 2021 12:27 pm
---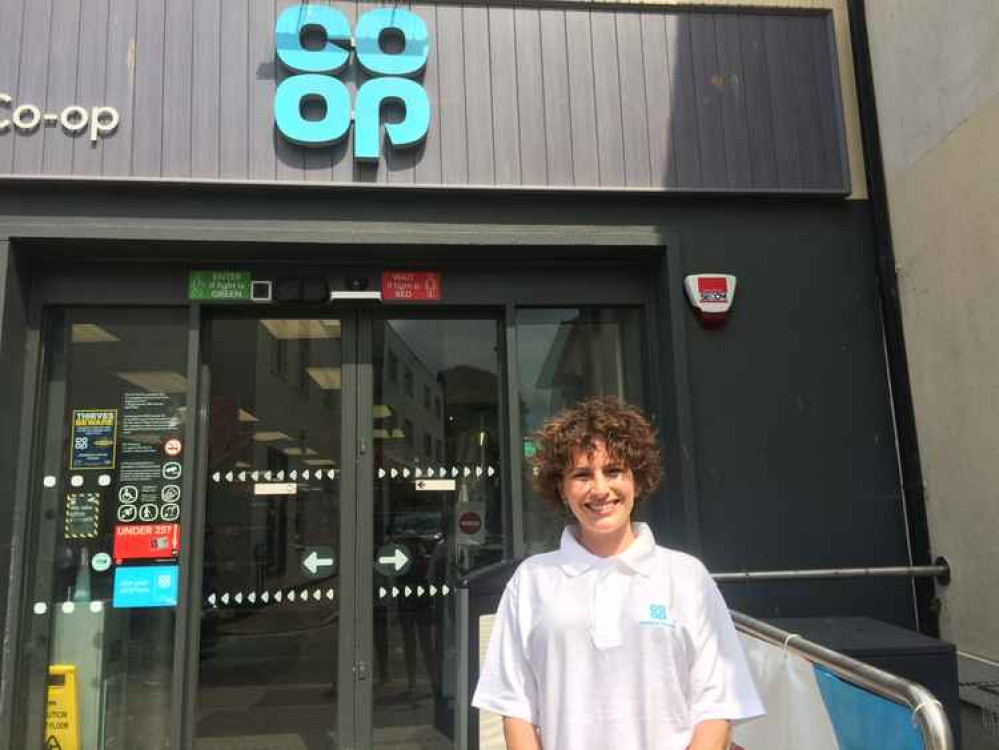 The Co-op Member Pioneer for Sidmouth and Seaton, Sarah Reed, outside the Sidmouth Co-op shop
Community News
Sidmouth Nub News aims to support our community, promoting shops, businesses, charities, clubs and sports groups. We'll be profiling some of these businesses and organisations regularly in a feature called 'Up Close in Sidmouth'.
We caught up with Sarah Reed, the Member Pioneer for Sidmouth and Seaton, and asked her to tell us a bit more about her role.
She said: "Officially a Co-op Member Pioneer brings together Co-op members, colleagues and local causes to make communities a better place to work, play, live and learn. I like to think of it as a part-time liaison role, getting involved in my local community and enabling causes and individuals to have a greater impact with the help of the Co-op."
Sarah explained that there are often individuals or groups who want to make a positive difference within their community, but are not sure how to go about it – and that's where the Co-op Member Pioneer can play a valuable part.
"We can put you in touch with like-minded people, offer practical advice, and help. It's very much a networking role and there are a lot of different elements.
"The majority of my focus is on the three nominated causes that are linked to the local Co-op stores, but it's also about learning what matters to the community and finding practical ways to bring the right people and opportunities together. I'm quite new, and there wasn't a Member Pioneer for Seaton and Sidmouth before me, so I'm still learning!"
The kind of assistance a Member Pioneer can give is wide-ranging. Sarah said: "This week I'm dropping off donations of food and drink to Colyton Caterpillars for an event they are hosting.
"I'm also creating social media pages so we can share any news, events or requests for help from local causes.
"In future, when COVID restrictions are eased, we could offer local groups the chance to have a pop-up stand in the store to promote what they do.
"Also, some Co-op staff members may be available to give up a few hours of their time to volunteer for specific projects within their community.
"In fact, each time I talk to my line manager I learn about something new we can do or offer, and that's really exciting!"
She'd also like to make more local Co-op shoppers aware of their own ability to generate funds for a community cause: "If you are a Co-op Member, then whenever you shop, a proportion of your spending is donated to the Local Community Fund, so I'd recommend all members go on the app and choose a specific cause. There are lots of ways Member Pioneers can support local causes, and I hope I can establish myself and do more in the future."
Another way she'd like to do this is through the Co-operate platform.
"Co-operate is a great initiative to quickly see what local causes and charities are out there. Going forward it is now a growing database. I moved to Devon recently and finding groups to join was really important to me. I'd like to grow it more, and I've been researching different causes and contacting them to suggest they join." Having experienced at first hand the friendliness of people in the Sidmouth and Seaton area, and their willingness to help others, Sarah said the role of Member Pioneer was ideal for her. "I wanted to support this amazing local community who had welcomed me so warmly during a difficult year. There is so much going on in East Devon and loads of people give their time to help others. There is a lot of local word-of-mouth recommendation already, and the Member Pioneer role offered me an opportunity to try and tap into that and enable me to offer help through Co-op donations and initiatives. It's also a flexible part-time role and fits around my other work commitments." Asked what personal qualities have proved really useful in the job so far, Sarah said: "Listening, definitely. "I'm a natural talker and love meeting new people, but during those conversations I might hear a tiny nugget of information – maybe a re-greening project someone's trying to get off the ground, or a school group who are struggling with something, and that's when I think, 'Ah, I wonder if we can help?' And that's a wonderful moment." If you'd like to contact Sarah to see if the Co-op can help your local group or cause, please email her at
[email protected]
Or you can pop into the shop and speak to the manager, and he'll get a message to her. If you've got any ideas on
how Co-op could help your community
, or want to know what Co-op is doing near you then contact the Co-op Member Pioneer Co-ordinator for your area, who will then put you in touch with your local Member Pioneer.