Opportunity for producers to take their products to the High Street and stores with the Co-op
The Co-op's Apiary programme is intended to help smaller businesses get their products on the shelves.
---
By Will Goddard
Posted: Wednesday, 22nd February 2023 12:00 am
---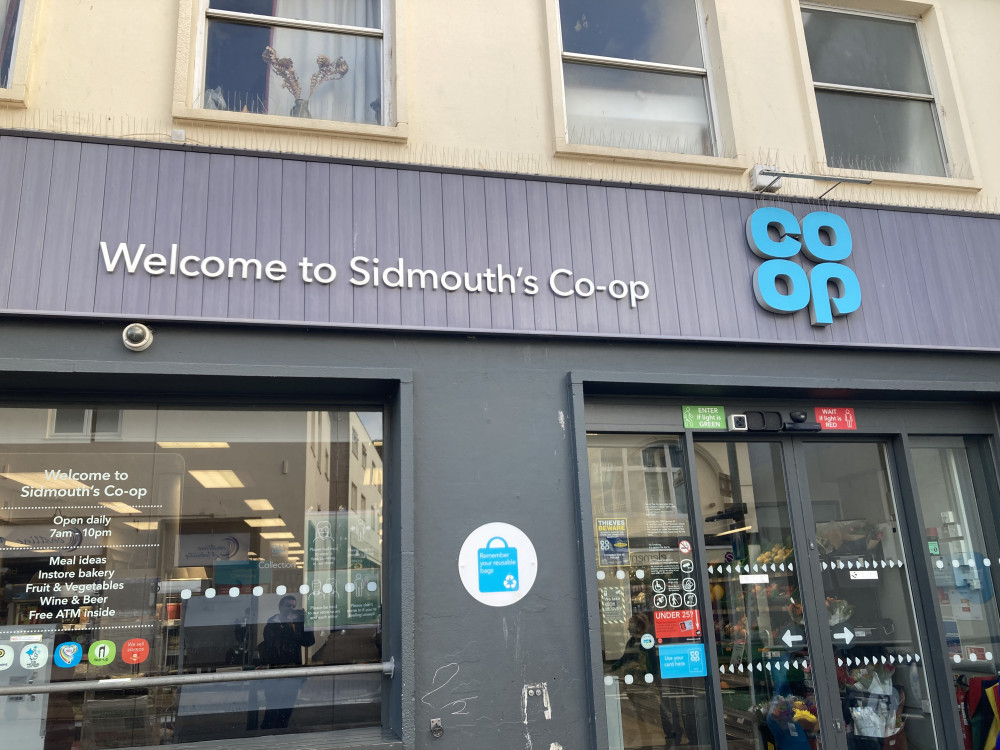 Sidmouth Co-op (Nub News/ Will Goddard)
Local initiatives
Following an exciting first year which saw six new food brands hit the shelves across the country, Co-op is searching for a second wave of small, values-led and innovative food businesses to join its accelerated support scheme and have the opportunity to work towards seeing their products on the convenience retailer's shelves.
Applications are now open for the accelerator scheme, known as 'the Apiary', which works closely with local, community and smaller-scale suppliers to offer tailored and dedicated support, and mentoring and advice on all aspects of the product journey, including: industry and consumer insight; technical hints and tips and, access to the convenience retailer's dedicated buying teams.
Successful applications will have the opportunity to pitch their products to Co-op's buyers, and those selected to join the scheme could join businesses such as: Dapur Mariae; Scrapples; Superfoodio; The Woolf's Kitchen; Urban Rajah and, the Wonky Food Co who were the inaugural group of businesses to join the scheme in 2022, and have gone on to see their products have the opportunity to reach a wider audience, and raise awareness of their brand, in selected Co-op stores.
Rebecca Oliver-Mooney, Co-op Head of Category - including Community Buying and The Apiary, said: "This is an exciting time for our Apiary programme – the search is now on for the next group of businesses to join our accelerator scheme in 2023. Innovation, provenance, quality, value and diversity is important to shoppers and, we really are looking forward to hearing from new, exciting and innovative producers. Previously, the Apiary programme has worked with businesses which have created: vegan; Indian; Malaysian and Asian-inspired recipes and, those with a focus on using 'wonky' fruit and veg to avoid food waste. Now we are keen to hear from more businesses with a real point of difference, who are values-driven and, offer something unique to interest and excite Co-op Members and customers."
One of the latest suppliers to receive support through the Apiary programme, Ivor Peters, creator of Urban Rajah, who saw his 'Buroti' Indian roti style flatbreads – including the Vegan Smashed Onion Bhaji and Chickpea wrap - hit the shelves in approaching 100 Co-op stores last month (January 2023), said: "Being able to bring my food passions to a wide audience through the scale and reach of Co-op after working with its Apiary scheme is very exciting. I describe the products as the 'taste of India in flatbread wrap', they are inspired by Indian street food, packed with authentic flavours and, really easy to eat on the go - I am delighted that Co-op's members and customers are now able to see and taste the results for themselves."
Interested businesses should apply here before the end of the day on Monday, 13 March 2023.
Co-op membership helps support Co-op's national charity partners and Local Community Fund causes.