Devon homelessness funding cuts would 'massively increase' number of rough sleepers, councillor warns
By Ollie Heptinstall - Local Democracy Reporter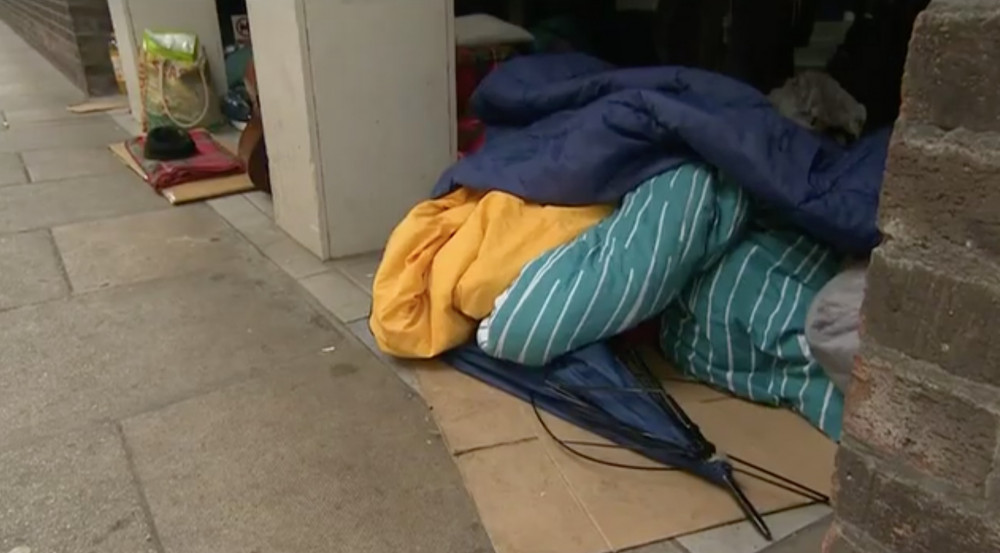 Rough sleeping (LDRS/ BBC Spotlight)
Potential cuts to homelessness prevention funding in Devon will "massively increase the number of rough sleepers," a councillor has warned.
Devon County Council (DCC) is consulting on proposals to cut a number of services across adult social care, including its £1.5 million contribution towards avoiding people being homeless.
But local charities have hit out at the plan. YMCA Exeter, which receives £150,000 in support from the council, said "the consequences for vulnerable young adults will be huge," while St Petrock's, a charity in Exeter, warned it could lead to a "homelessness crisis" in the city.
DCC insists no decision has yet been taken but says it can no longer afford the money, diverting it instead towards spending in other areas that support vulnerable children, young people and adults.
Speaking at a DCC health scrutiny committee on Tuesday (21 March), Exeter councillor Martin Pearce (Labour) said: "In Exeter we see some of the biggest problems with rough sleeping in the whole of Devon already, and what these cessation of contracts will do is put the most vulnerable people in our communities at further risk and massively increase the number of rough sleepers.
"That will affect people all across Devon, so it's not just about an Exeter-only impact."
The county council's current £1.5 million payment is delivered through a contract with five providers who support around 250 people at any one time.
Their services are provided in multiple occupancy hostels in Exeter, East Devon, Torridge and North Devon, as well as through a countywide floating support service. None of the money pays for accommodation.
Cllr Pearce said 87 per cent of people at YMCA Exeter have a care need, but only 15 per cent have a care plan.
"That's a massive saving on statutory spend that you're getting because of this upstream intervention. If you remove it, floodgates are going to open and you'll be moving a pressure from one piece of the balance sheet to another.
"And if that's all this is about, then please be honest with people," Cllr Pearce said. "This is not about improving anybody's care or protecting the vulnerable in our society. This is purely a financial decision. You need to be honest with the people that elected you if that is the case."
The proposals come as new figures recently revealed the estimated number of rough sleepers in Devon increased by 28 per cent last year to 113.
DCC's opposition leader, Cllr Julian Brazil (Lib Dem, Kingsbridge) also criticised the plan earlier the month, pointing the finger at Westminster. "The truth is, if we don't get the proper funding from central government, we're never going to be able to provide these services," he said.
"And [the council] can put as much spin as they like on it, but in the end these are cuts to the most vulnerable people in Devon and it breaks my heart to think we're having to do that."
Consultations are underway on five other 'service changes' by the county council, with a proposal to close the North Devon link mental health and wellbeing service also criticised at the scrutiny meeting.
The council also proposes to close one learning disability respite service in East Devon, seven learning disability and older persons day services, to stop its funding contribution towards the Wellbeing Exeter programme, and to consult on its carer offer.
Calls for DCC to pause its consultation were narrowly rejected by the committee, following criticism about the process undertaken. One councillor, Jess Bailey (Independent, Otter Valley) called it "[not] fit for purpose."
She claimed there was not enough detail on the cost of the services and a "risk of additional costs being passed to third parties".
Defending the process, Devon's cabinet member for adult social care, Cllr James McInnes (Conservative, Hatherleigh & Chagford), said that while he understood the "angst," stressed that "these are consultations on proposals.
"There seems to be a complete misunderstanding that we've already made decisions and are doing it, and we're not."
"These are very difficult decisions," he added. "Officers, myself and cabinet certainly, don't underestimate the difficult decisions that lie ahead."
Cllr McInnes claimed the council had been as "open as possible" and told members it was important the consultation "runs its course."
He concluded: "It's really important … we make a decision to make sure we are supporting the most vulnerable people in Devon and that Devon County Council is sustainable for the future, so we can support the most vulnerable people in Devon.
A spokesperson for Devon County Council recently said: "We've budgeted this year to significantly increase spending in services that support vulnerable children, young people and adults, to meet rapidly growing demand for those services.
"To prioritise spending on our statutory responsibilities, we have to make savings in the region of £45 million from elsewhere and get the best possible outcomes from every single penny we spend."
Consultations on the six proposals are open until dates in April or May at: devon.gov.uk/haveyoursay.