Local MPs and town council chairman respond to shake-up of parliamentary constituencies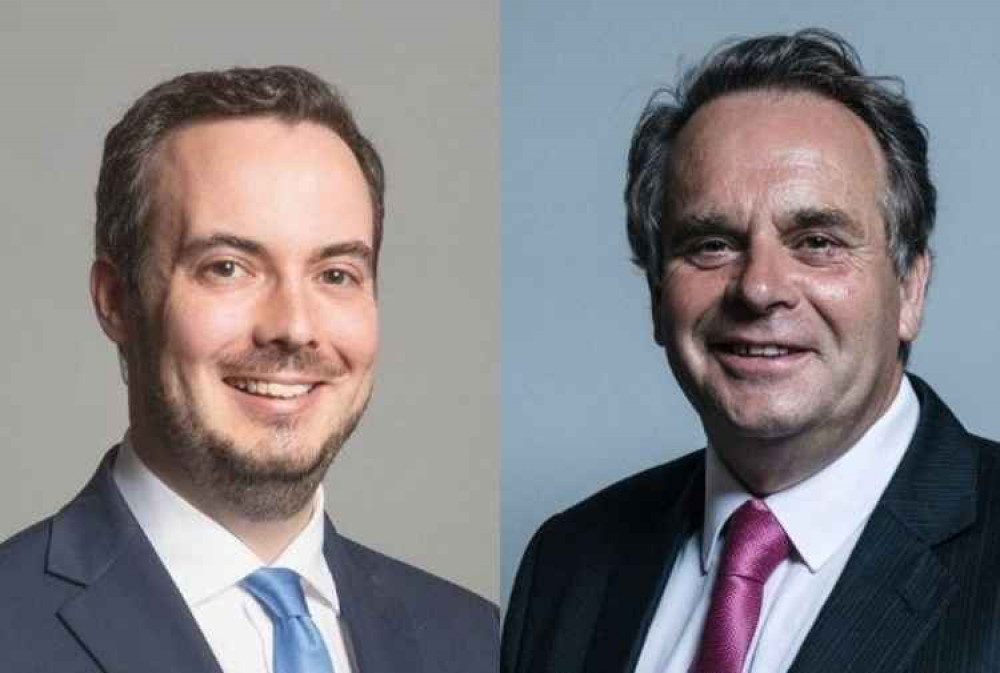 Simon Jupp, MP for East Devon, and the Honiton and Tiverton MP Neil Parish
Reactions have been coming in following the boundary review announcement his morning, which would see Sidmouth becoming part of the Honiton parliamentary constituency.
A public consultation's under way on the re-drawing of the boundary lines, which will create a new constituency for Exmouth, including Budleigh Salterton and Topsham, and another for the Tiverton area.
The Honiton constituency would have Sidmouth and Ottery on its western border, with Axminster on its eastern edge: read more and view the map here.
Constituency boundaries are changed regularly in response to population growth in some areas, to make sure that each MP has a similar number of people eligible to vote in their patch.
The chairman of Sidmouth Town Council, Ian Barlow, told Sidmouth Nub News there would probably be 'pros and cons' to the changes, but he would be disappointed if they result in Sidmouth losing Simon Jupp, the current East Devon MP, as the town's parliamentary representative.
He said: "Simon Jupp is young and modern, and he seems to be working really hard for Sidmouth, engaging with us at town council level which I think is unusual, and it'll be a shame if he's not our MP any more.
"The only bonus to Sidmouth is that we would be the largest town in that constituency - in East Devon we're the second largest town and maybe we're missing out because of that."
Mr Jupp told us: "The constituency I'm proud to represent contains the largest population in Devon and has to change under the rules of the boundary review. I will put forward my views as part of the consultation process as the East Devon constituency will change to reflect a growing population across the area. I voted to ensure Parliament can't block the final recommendations which are designed to make Parliamentary representation fairer across the United Kingdom."
Neil Parish, the MP for the current Honiton and Tiverton constituency which looks set to be split in two, expressed shock at being 'cut in half'.
Talking to Nub News, he said: "I was not expecting Tiverton and Honiton to be sliced apart. It was certainly a surprise, and this clearly affects my position as the constituency's MP.
"My current electorate will be split and so I will no longer be able to represent each of my current constituents.
"I will have to await the final proposals in full, to ensure I have all the details, before I can make any decisions on whom I will seek to represent within the new boundaries."
In terms of Devon as a whole, the planned changes would mean an additional MP.
The public consultation runs until August 2. To view the proposed changes in full, and submit a response, click here.