Major Sidmouth roadworks reach 'halfway point'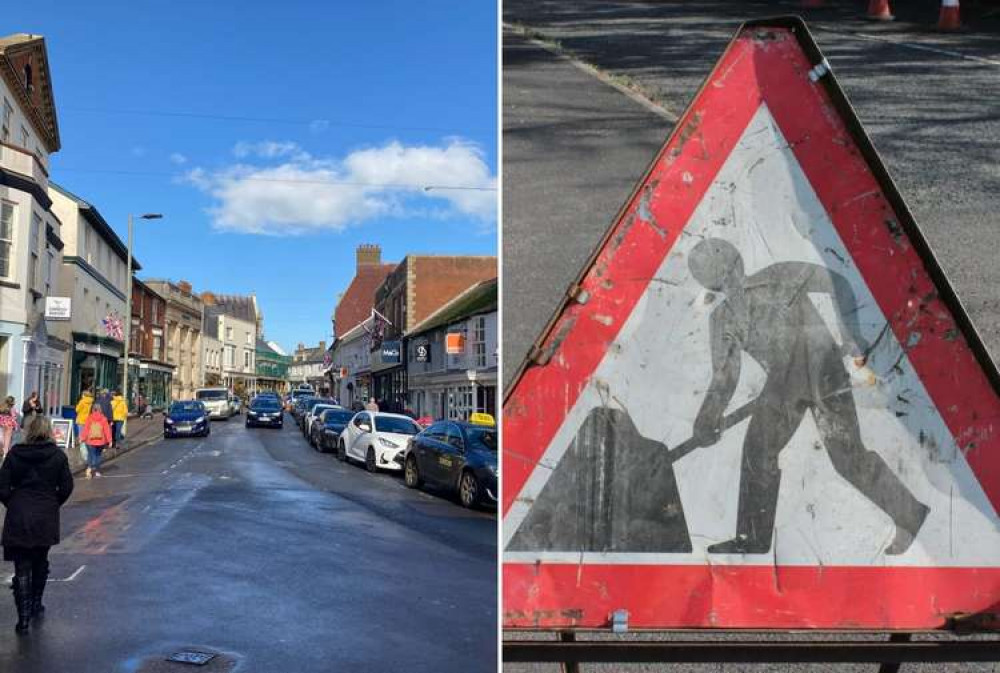 L: The scope of the works covers 1.2km of the A375 into Sidmouth (Nub News, Will Goddard). R: Roadworks sign (DCC)
A major scheme to resurface and improve drainage on a main road into Sidmouth 'has now reached the halfway point', according to Devon County Council.
Works began on 10 January and were expected to take 12 weeks to complete.
The scope of the works covers 1.2km of the A375 into Sidmouth, from Temple Gardens to the junction with the Esplanade, and involves repairing damaged and collapsed drainage pipes.
How much is there left to do?
Pipe repairs are now taking place on small sections in the Temple Street and Vicarage Road area, and are complete from Salcombe Road to All Saints Road and the roundabout, as well as in Fore Street and High Street.
Work to resurface the roads is due to take place as follows:
3-11 March - Fore Street and High Street, overnight road closures from 5.30pm until 7am.
From 'around' 14 March - Temple Street and Vicarage Road.
Diversions will be in place.
'Please bear with us'
Councillor Stuart Hughes, Devon County Council Cabinet Member for Highway Management and County Councillor for Sidmouth, said: "The scheme is going well and is on schedule so far, so thanks must go to our contractors.
"The whole town will benefit from this drainage and road reconstruction work so please bear with us for the remaining weeks of the scheme."
—————
Got a Sidmouth story you want to share with us? Email [email protected]
For daily updates on what's happening in Sidmouth, follow us on Facebook and Twitter. You can also sign up to our free weekly newsletter featuring exclusive articles for subscribers - just type your email into the box below.