New artwork 'Respect Sidmouth's Sea' now on display
A new piece of art is now on display at Sidmouth Wallspace in the Ham East car park.
A collage by photographer Paul Newman, the work is entitled 'Respect Sidmouth's Sea'.
Paul, who is based in Branscombe, said: "It's an amalgamation of a quite a few black-and-white photos I've had over the last few years which I've put together in a winter, strong-wind, rough-sea amalgamation.
"The right-hand side of the work features Jacob's Ladder, which is a prominent famous local landmark and has withstood every kind of weather that the sea has been able to throw at it.
"The left-hand side features the Sidmouth Independent Lifeboat fundraising mannequin Alma.
"I was hoping with that if you can when you're passing support the lifeboat with a donation."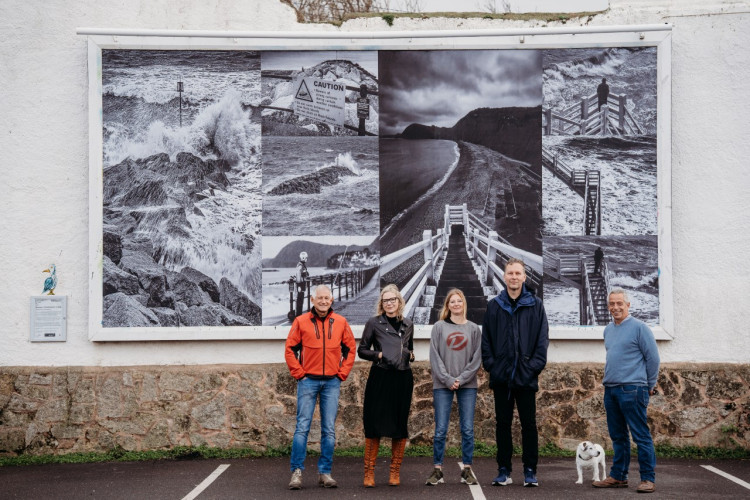 The new artwork at Sidmouth Wallspace in the Ham East car park (Sarah Hall)
Click here to view a video made by Seb Fitzhenry on the new piece of art.
What is Sidmouth Wallspace?
Sidmouth Wallspace is a physical public outdoor gallery and is a collaborative project between Sidmouth School of Art, the Coastal Community Hub and David Shrigley, supported by Arts Council England and Sidmouth Town Council.
It has hosted several other pieces of art, including pieces by Sidmouth College students and Sidmouth Photographic Club, and the billboard was put up in May last year.
Director of Sidmouth Coastal Community Hub Louise Cole said: "It is great to be displaying the work of a variety of creative talent in Sidmouth through our public gallery space for everyone.
"The purpose of the billboard as part of our Sidmouth School of Art concept is all about inspiring people to explore their own creativity, to bring new artworks to the town for the benefit of residents and visitors and to enable this to happen through projects with specific artists through sharing skills."
Sidmouth Coastal Community Hub is also looking for sponsorship and ideas for new potential billboard projects.