Sidmouth lifeboat assists in major Axmouth rescue after boat capsizes and three swept out to sea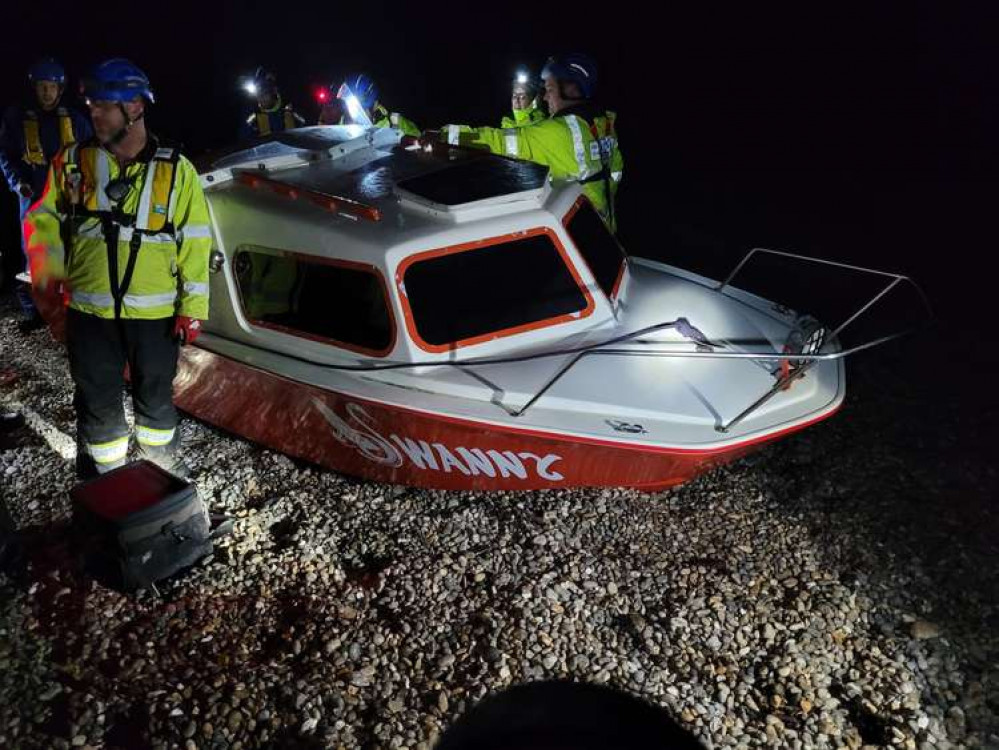 The capsized boat is pulled on to Beer beach after the major rescue operation (photo credit: Beer Coastguards)
A major rescue operation was launched in Axmouth yesterday (Sunday) evening after a boat capsized leaving three men in the cold water.
Coastguards from Beer and Lyme Regis, lifeboat crews from Lyme Regis, Sidmouth and Exmouth, a coastguard helicopter, Devon Fire & Rescue Service first responders and the South Western Ambulance Service all attended the scene at the mouth of the River Axe at 5pm yesterday.
The initial call was to a capsized boat with three people in the water who were not wearing life jackets.
On arrival, the emergency services found that one man had managed to swim ashore but was suffering the effects of hypothermia and was given initial treatment at Axe Yacht Club.
A second man could be seen waving a light about 100 metres off shore and Lyme Regis lifeboat crew pulled him from the water. He too was found to be suffering from hypothermia and was taken inside for treatment.
Resources were then focussed on finding the third man, who was eventually located by the coastguard helicopter some 500 metres west of the harbour mouth and 200 metres from shore.
Again, Lyme Regis lifeboat crew pulled the man from the water and he was airlifted to hospital due to his condition, while the other two men were taken to hospital by land ambulance.
Attention was then turned to the capsized boat which was drifting half submerged off shore.
Sidmouth lifeboat towed it to Beer beach where coastguards managed to get it up the beach with help from a local fisherman.
A spokesperson for Beer Coastguards said: "These men are very lucky that somebody saw what happened and dialled 999.
"Lifejackets save lives always wear a lifejacket at sea and don't remove it until you are safe ashore.
"We wish them a speedy recovery.
"We would like to thank the Axe Yacht Club and Beer fisherman Kim for their help and those that dialled 999 without those calls the outcome would have been very different."
Lyme Regis lifeboat helm Tim Edwards added: "The men were very lucky, but they were doing what the RNLI recommends and floating on their backs waiting for help to arrive."