Town council 'overwhelmingly positive' about jazz and blues festival proposal for Sidmouth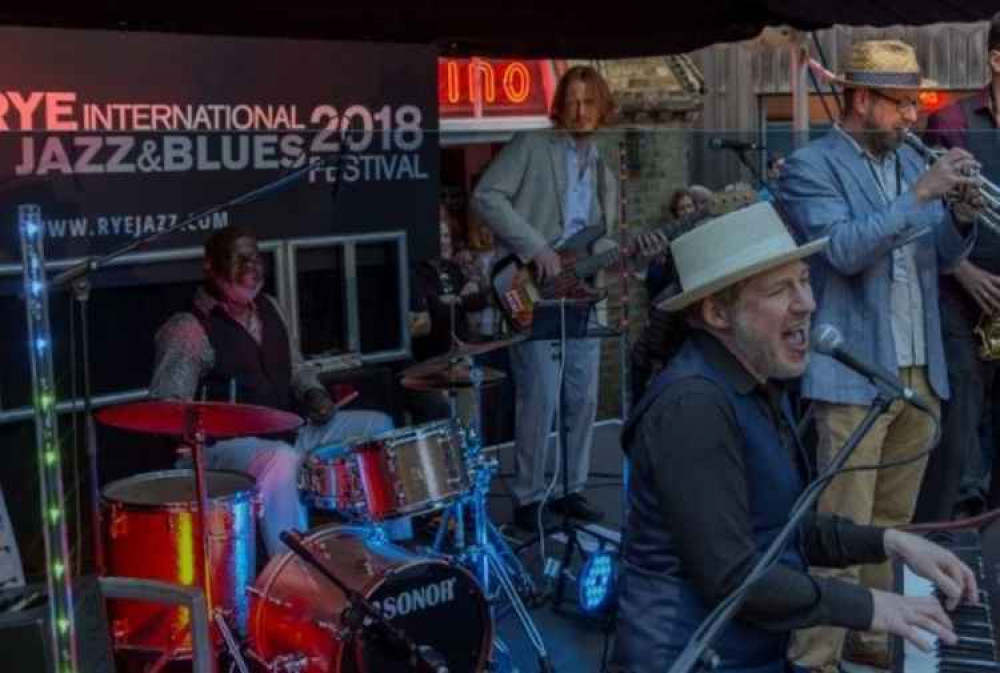 The Rye International Jazz and Blues Festival - a similar event could be held in Sidmouth. Picture: Ian Bowden
Sidmouth could play host to a major jazz and blues festival the year after next, featuring internationally famous musicians.
The idea has been put forward by the director of the Rye International Jazz and Blues Festival, Ian Bowden, who has been running the event in the East Sussex town since 2012.
He proposes holding the first Sidmouth International Jazz and Blues festival in early June 2022, and is considering big-name performers including Van Morrison, Jools Holland, Curtis Stigers, Courtney Pine, Beverley Knight and Mica Paris for the line-up.
This week, members of Sidmouth Town Council's Tourism and Economy Committee gave the idea an enthusiastic welcome and said they felt 'overwhelmingly positive' about it.
'We've got nothing to lose - and it could be a huge benefit'
Mr Bowden and his team have already held preliminary meetings with the council's chairman Ian Barlow, the Economy and Tourism chair Louise Cole, representatives of the Sidmouth Chamber of Commerce and other local organisations.
He envisages an event similar to the Folk Festival, with a mix of big concerts in large venues, free outdoor performances, events in small local venues, a community stage, workshops and family entertainment.
There would also be a range of bars and stalls selling high quality food and drink.
The first Sidmouth International Jazz and Blues Festival would be held from June 2 until June 5 2022, but after that it would take place during the last week of May.
At the Tourism and Economy Committee meeting on Monday, December 14, Cllr Ian Barlow said: "To me it's very exciting - we've got nothing to lose.
"They're not asking for any money to begin with, so if they're just looking for our support and our help, I think we should give it whole-heartedly.
"There doesn't seem any downside from the council or the town's point of view and it could be a huge benefit, so let's support it."
Cllr Marianne Rixson said: "I think this is very much worth a try. I like the fact that they've picked out some nice venues, it's really going to showcase Sidmouth I think, and with our new website and everything, this is an ideal opportunity to promote this as an event."
'A very high quality offering'
Town clerk Chris Holland said: "They are a very professional outfit, I don't say that lightly, they have a track record and this is a very high quality offering here.
"If they do half of what they're planning this will really put Sidmouth on the musical map in a different genre from the Folk Festival and can only be a good thing."
Cllr Stuart Hughes said: "I welcome this, the guy's certainly got a good track record with Rye, and if he can get some of these headliners I would have thought we're certainly on a win -win.
"I'm sure they can provide a stage for local up-and-coming jazz and blues bands that we've got around Devon. Full backing from me."
Cllr Denise Bickley also supported the idea, but added that it would be important to include the town centre shops in the planning, and give them options on how to get involved.
The committee chair, Cllr Louise Cole, said it was encouraging to see that the organisers had already been meeting people locally and exploring their ideas with them.
She said: "We talked to them at length about how important it was to have a local feel to it and create opportunities for local people, so I think there's something beneficial for everybody in this proposal."
The committee agreed to feed back the view that they are 'overwhelmingly supportive' of the plan and would be happy to convey their support in writing if this would help the organisers obtain grant funding to bring the proposal to fruition.