Your guide to Sidmouth Folk Festival Online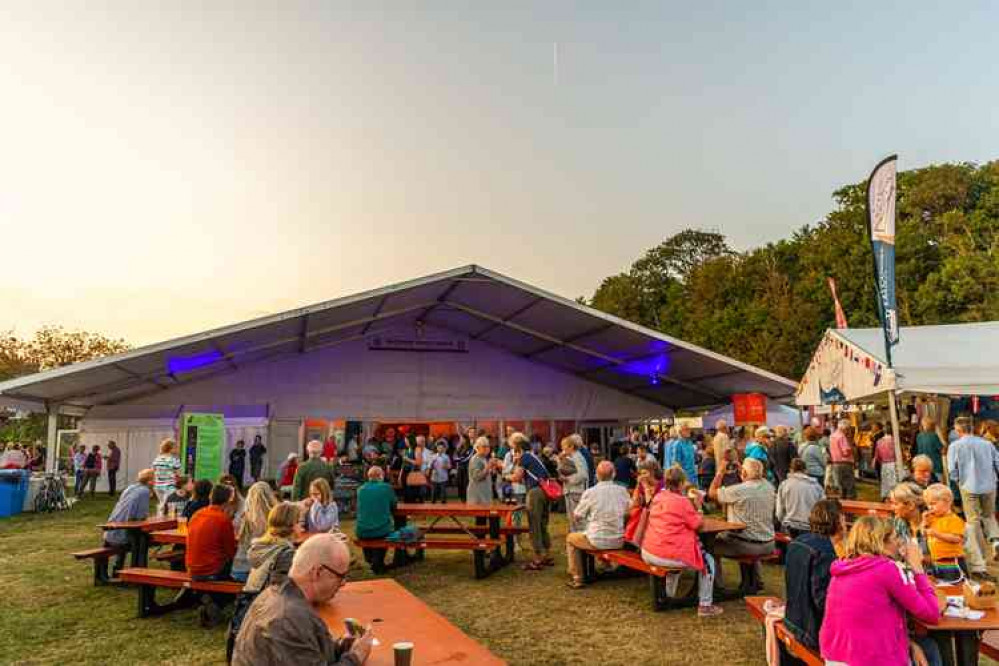 Sidmouth Folk Festival. Image courtesy of Kyle Baker.
The virtual stage is set and a host of artists are tuning up for the Online Sidmouth Folk Festival.
It kicks off this weekend with four-hour "live" performances from a secret location in the town. Hosted by storyteller, writer and singer Matthew Crampton and singer songwriter Kitty Macfarlane, the action take place between 5pm and 9pm on Saturday (August 1) and Sunday (August 2).
The shows will feature live contributions from Devon folk heroes Steve Knightley and Jim Causley, as well as specially recorded performances by Martin Simpson, Quebec's Yves Lambert Trio, Jez Lowe, Talisk, Bruce Molsky from the USA, Ewan McLennan, Jackie Oates and John Spiers, Damien Barber, Hannah Sanders and Ben Savage, Rosie Hood, Cohen Braithwaite-Kilcoyne, Zoe Wren and many more. Look out for special contributions from The Spooky Men's Chorale from Australia, Nancy Kerr and James Fagan, Blowzabella, Rachel Hair, Seth Lakeman and Jon Boden.
All the events are free to access online at sidmouthfolkfestival-live.co.uk, although donations are welcome to secure the future of the festival. An online Crowdfunder campaign has raised more than £75,000 to date and will continue during festival week at crowdfunder.co.uk/the-sidmouth-folk-festival.
Trustees and friends of the charity will also be out collecting in the Market Square and the Esplanade on Saturday, Sunday and Monday, armed with mobile card readers as well as tins!
In addition, a huge variety of online events will be running up until August 7, throughout what would have been festival week in Sidmouth, when crowds would have been flocking to town to relish is take part in dances and workshops of all shapes and sizes. Organisers were forced to cancel because of the Covid-19 pandemic.
Look out for the ever popular John Gasson Jig Competition in its usual Sunday afternoon slot, the legendary Sidmouth Folk Festival Horse Trials and mummers plays.
Laurel Swift's Travelling with Thomas show would have been in the Manor Pavilion but you can join her for a special Online version on Monday evening. Look out too for a special insight into the vibrant world of Pig Dyke Molly Dancers.
There are lots of activities for children too, and Shooting Roots and Stream of Sound are back with a strong youth programme.
Sidmouth is renowned for its workshop programme and many favourites are joining the online festival, with places available to book online. Sandra Kerr leads the Sidmouth Festival Choir, Paul Sartin offers his Sing Out workshop, Nick and Mary Barber lead Big Band, John Dipper gives a fiddle masterclass and Hazel Askew leads the harmony singing. Bob Ellis is offering melodeon workshops for relative beginners and intermediates as well as leading "Well-Known Tunes at a Steady Pace" group sessions.
Specially recorded talks including broadcaster Matthew Bannister's hugely popular Folk on Foot; Jez Lowe talks about his two folk tradition-related novels and Jack Rutter presents his History of the Guitar.
For dance lovers, Kerry Fletcher is joined by musicians Chris Walshaw and Frances Watt for Zoom workshops on Bal Classics, Bal Variations, Breton dances and Fandango. There's plenty for folk dancers too, with English dance, American contra, Irish set dance and an introduction to Scottish country dance.
Ilse Pedler offers poetry events through the week and Sidmouth resident Janet Dowling leads a full programme of storytelling. There's a host of videos of 2020 guests and Sidmouth favourites including Canada's East Pointers, Centralbal from France, Home Service, Jamie Smith's Mabon, Fara and Pete Coe. You can also browse the archive section for videos of performances in special locations around Sidmouth.
It's a packed virtual programme that's set to bring back happy memories and look ahead to The Sidmouth Folk Festival 2021, which is booked for July 30 to August 6.
For more details and to book workshop places, visit sidmouthfolkfestival-live.co.uk.
To make a donation to support the future of The Sidmouth Folk Festival visit crowdfunder.co.uk/the-sidmouth-folk-festival.