Sidmouth Lions Club - Great Duck Derby
---
The Byes, Sidmouth, EX10 8PR
UNTIL Sunday 16th October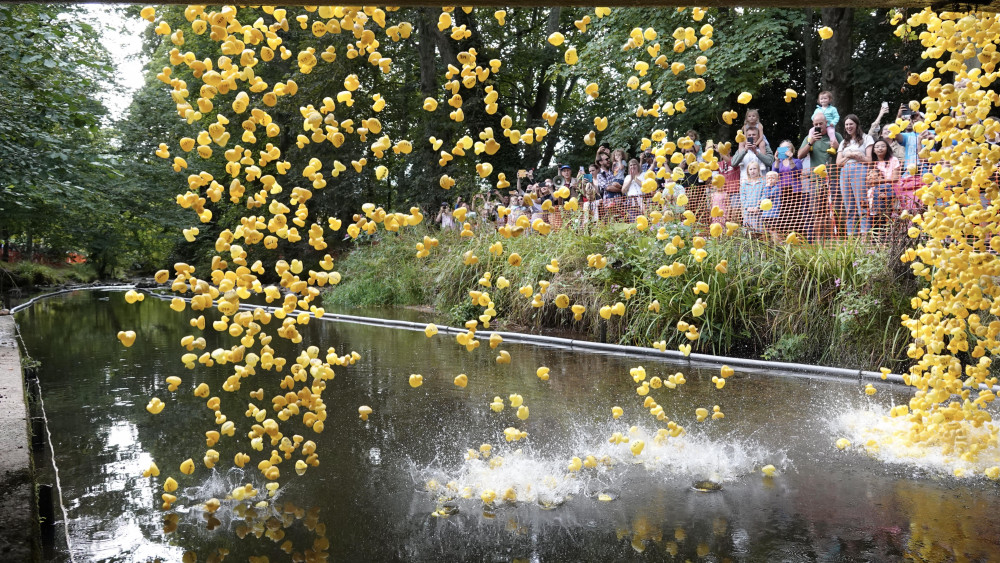 UPDATE: The new date for the event is Sunday 16 October.
Sales of the yellow duck tickets from Lions stands outside the Co-op and Potbury's will restart early in October.
——————
UPDATE: Sidmouth Lions Club has postponed this event until October (date TBA) following the death of Her Majesty the Queen.
——————
Sidmouth Lions Duck Derby event will take place in The Byes, Sidmouth, from 2.00 pm to about 4.30 pm.
The event starts with the traditional Children's Duck & Spoon races, which will commence shortly after 2.00 pm near the Lawn Vista Cycle Bridge.
Then there will be two big duck races down the River Sid starting from the main Lawn Vista Cycle Bridge to the finish near the big weir by the Salcombe Road entrance to The Byes.
The first duck race starts at 2.45 pm from the Cycle Bridge and features hundreds of little red ducks sponsored by local business organisations.
The main Duck Race starts at 3.00 pm from the Cycle Bridge and features thousands of little yellow ducks. This race is in aid of Children's Hospice South West, Devon Freewheelers and Sidmouth Lions Club's charity activities; also there is over £1,000 of cash prizes to be won by the sponsors of the winning yellow ducks!
Tickets at £1 each for the yellow Ducks Race, are available from the Sidmouth Lions stands outside the Co-op and adjacent to Potbury's store from 10 am - 5 pm approx., Tuesday to Saturday from August 30 to September 17 (excluding Saturday 10) and also from outside Lidl on Saturdays 3, 10 & 17. Duck tickets can also be bought at: Paper Moon, 38 Fore Street (opposite 'Boots'), 83 for Cards in High Street (by Lloyds pharmacy) and Woolbrook News in Woolbrook.
GRAND PRIZE DRAW IN AID OF UKRAINIAN REFUGEE CRISIS AT THE DUCK DERBY
In addition to the £1,000 of cash prizes at this year's Duck Derby, on Duck Derby Sunday only there is also an opportunity to enter our Grand Prize Draw to win one of a number of special, valuable prizes.
Just £2 provides five chances to win one of the 12 fabulous prizes in this Draw! This high value prize raffle is part of the Lions Club of Sidmouth's continuing fund raising efforts in aid of the Ukrainian Refugee Crisis.
So do come along to The Byes for a fun afternoon at this Lions charity event!
Delicious Taste ice creams will also be on sale!
Add your Sidmouth event for FREE here!
Nub It