New artwork now on display at Sidmouth Wallspace – how you can support further projects with the Co-op
The Co-op is currently raising money for Sidmouth Coastal Community Hub, which is taking part in a collaborative project known as 'Sidmouth Wallspace'
---
By Will Goddard
Posted: Friday, 13th January 2023 11:21 am
---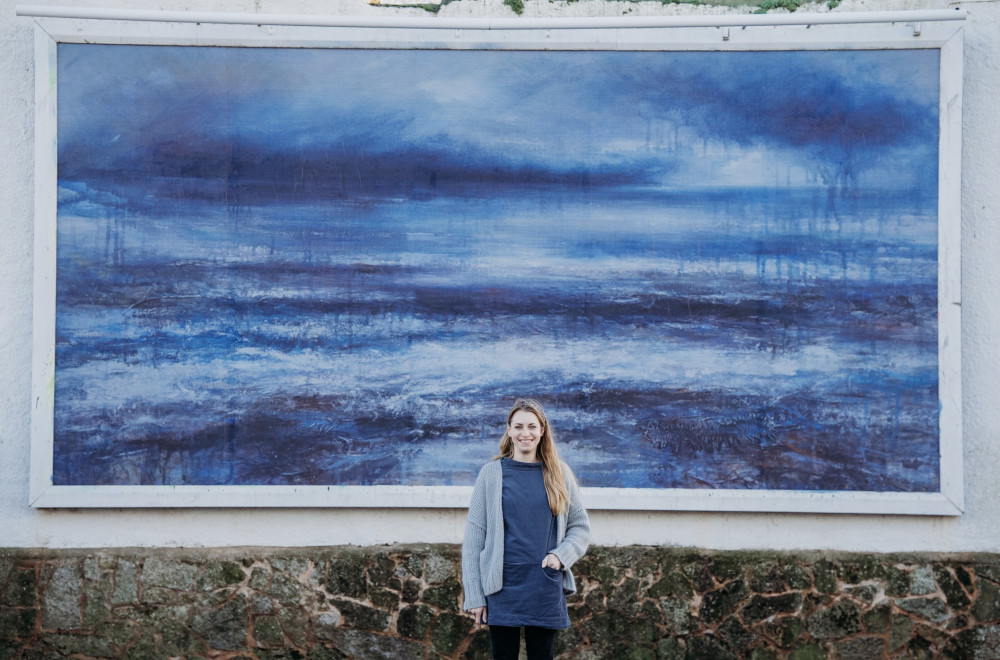 Jennifer Bennett in front of the billboard artwork 'Reminding Myself' at Sidmouth Wallspace (Sarah Hall)
Local initiatives
A new piece of art is now on display at Sidmouth Wallspace in the Ham East car park.
Created by Jennifer Bennett, who is also an art teacher at Sidmouth College, the work is entitled 'Reminding Myself'.
Jennifer said: "The painting is inspired by high tide, when sometimes the beach can look quite wild and the waves are crashing upwards.
"I like that idea of trying to catch it with textures and paint and really explore what the paint can do.
"I like the idea of having little areas that as you get closer to the painting you can notice them.
"So there are parts in there which have got maps, there's a map of Sidmouth there... I have poems, there's one by Mary Oliver, and it's all about have you ever seen anything more beautiful."
Sidmouth Wallspace is a physical public outdoor gallery and is a collaborative project between Sidmouth School of Art, Sidmouth Coastal Community Hub and David Shrigley, supported by Arts Council England and Sidmouth Town Council.
The Co-op is currently raising money for Sidmouth Coastal Community Hub, which also offers events such as Sidmouth Sea Fest.
The fundraising comes as part of the Co-op's Local Community Fund which provides local causes nominated by the community with an extra funding boost.
When Co-op Members buy selected Co-op branded products and services, 2p for every pound spent goes into their Co-op Membership account and Co-op gives the same to support community organisations and local causes.
The three local causes the Co-op is raising money for in Sidmouth are Rupert's Under 5s Pre-school, Sidmouth Coastal Community Hub and Sidmouth Netball Club.
To support one of the above, you can become a Co-op Member and choose it as your local cause.
Click here to find out how to join: www.coop.co.uk/membership.