Conservative Party not answering questions about convicted sex offender and former Exmouth mayor John Humphreys
By Joe Ives - Local Democracy Reporter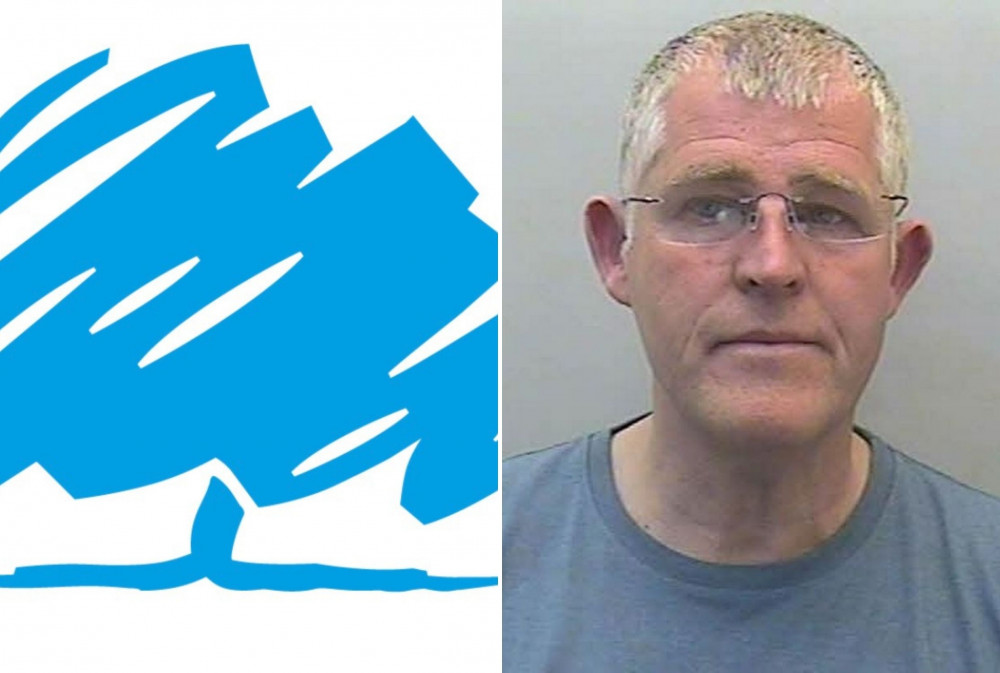 L: Conservative Party Logo (The Conservative Party). R: Convicted sex offender and former East Devon councillor John Humphreys (Devon and Cornwall Police)
The Conservative Party has failed to answer questions about whether it has conducted an enquiry into a former Tory councillor who has been convicted of sex crimes against children.
Former East Devon District and Exmouth town councillor John Humphreys is serving 21 years in prison after being convicted of historic sexual offences against two boys in the early 1990s and early 2000s.
The Conservative group at East Devon District Council (EDDC) insists that any party-led enquiry into the case is a matter for the national party.
However, Conservative central office won't say if such an enquiry has taken place.
Humphreys was originally arrested in May 2016 but it took over four years for the case to come to court and become publicly known.
A statement read out on behalf of one of Humphreys' victims last year at a full council meeting said that Humphreys knew that the case was live between 2016 and 2021, during which time he was a councillor.
"This leaves me wondering," said the victim in his letter, "'who else knew and how was he allowed to carry on as usual being a councillor at Exmouth and East Devon?'
Council leader Paul Arnott (Independent East Devon Alliance and Democratic Alliance Group, Coly Valley) later wrote to secretary of EDDC Conservatives Phil Twiss (Honiton St. Michael's), asking if the group had launched an enquiry into the matter. He copied senior members of the Conservative Party, including East Devon's MPs, Prime Minister Boris Johnson and co-chair of the Conservative party Oliver Dowden.
Cllr Arnott says he has received no response to the letter.
At EDDC's cabinet meeting earlier this month, councillors raised the lack of response from the Conservative Party, either locally or nationally, on the Humphreys case.
Councillor Jess Bailey (Independent, West Hill and Aylesbeare) said: "The Conservative Party must have practices and procedures around candidates, particularly when they come forward for election, that make declarations."
Commenting on the Humphreys's case she added: "Were those declarations not made, or were the declaration made but not true? We just don't know. We've had no information from the party in the past eight-plus months."
However, Mr Humphreys was already a councillor when he was arrested in 2016, and did not stand for election again.
Councillor Phil Twiss (Honiton St. Michael's), secretary of EDDC Conservative Group was asked later what practices East Devon Conservatives have for candidates declaring information before elections, and whether the party, locally or nationally, has conducted an investigation into the case and, if so, why it has not been made public.
Unable to answer, Cllr Twiss said: "matters such as this and are dealt with by The Conservative Party and not the EDDC Conservative Group."
But the Conservative Party has not answered specific questions on the matter, including whether any enquiry has taken place, despite being asked several times.
A spokesperson said that the party was not aware of the allegations against Mr Humphreys before they became public and that at that point, Mr Humphreys was no longer a member of the party.
The police investigation into Mr Humphreys, which started in 2016, became public when he appeared in court in November 2020, although he was a councillor until May 2019.
He had previously been questioned about offences connected to one of the teenagers in 2005 but no charges were brought.
There have been allegations that some members of the council knew Mr Humphreys was under investigation while he was still serving at the council before this was public knowledge, between 2016 and November 2020. These allegations have been categorically refuted by EDDC's Conservative group.
A Liberal Democrat councillor, Eileen Wragg, told a council meeting earlier this month that she "certainly knew."
In December 2019, whist under investigation, the council gave Mr Humphries, along with several other former councillors, the honorary title of alderman. He was stripped of the title last year following his conviction.
East Devon District Council is now establishing an independent investigation into how Humphreys came to be given the award.