Sidmouth: Donkey Sanctuary uncovers extent of online illegal donkey skin trade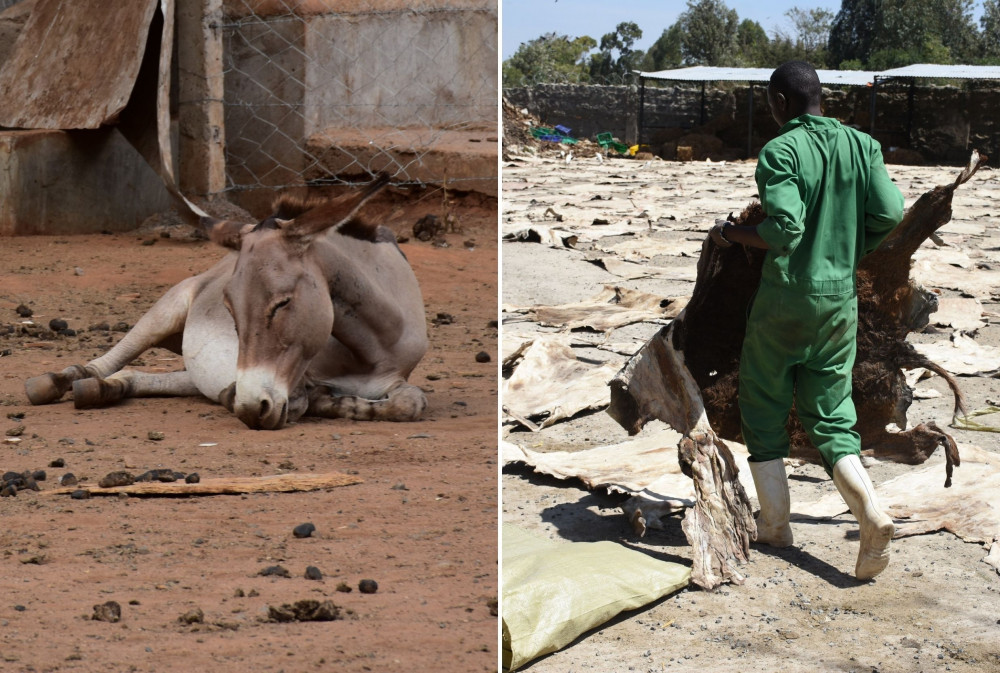 L: A donkey awaits slaughter at the Star Brilliant abattoir in Naivasha, Kenya (The Donkey Sanctuary). R: Donkey skins being laid out in the sun to dry at a slaughterhouse in Kenya (The Donkey Sanctuary)
The Donkey Sanctuary, an equine welfare charity with a site near Sidmouth, has uncovered methods used by organised criminals to sell donkey skins online.
It said that there are thousands of skins currently for sale on unregulated B2B (business-to-business) websites as well as well-known social media platforms.
The findings about online sales are part of a larger report by the charity, The Global Trade in Donkey Skins: A Ticking Time Bomb, which details how organised crime is facilitating the trafficking of donkey skins to make ejiao, or donkey-hide gelatin, for traditional Chinese medicine.
Research by Saïd Business School and WildCRU identified hundreds of traders on B2B sites offering donkey hides. The Donkey Sanctuary also found 'dozens' of adverts on Facebook, Instagram and Twitter.
One trader it found in Kenya reportedly said he had as many as 2,000 donkey skins available immediately.
Acting CEO of The Donkey Sanctuary Marianne Steele said: "There is no doubt that the global ejiao trade is having a devastating impact on the welfare of donkeys around the world, who suffer at every point from source to slaughter.
"This new research demonstrates just how vast the online donkey skin trade has become, and how entrenched it is with criminal activity and other illegal wildlife trafficking.
"By cracking down on the sale of donkey skins on their platforms, eCommerce and social media sites will not only prevent considerable cruelty to donkeys, but also help eliminate the other criminal activity that is taking place alongside it and support thousands of families who rely on their donkeys to survive."
The charity is now calling on B2B and social media sites to ban the sale of donkey hides on their platforms and remove existing listings.